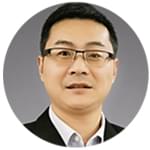 Ahead of the upcoming Food Contact Asia 2020 conference, we caught up with Rui Yang, Product Development Manager, Paper Laminates APAC at UPM Raflatac. He gave us a sneak peek of what we can expect from his presentation on day two, taking place during our 'Technical Consideration in Food Contact Materials' session.
Current Industry Focus:
Q. As consumers/end users continually push for safer solutions, what do you think is the biggest concern regarding food contact materials/packaging?
Food safety is always foundation and priority from consumers' perspective for high qualify life, and end users' perspective for severing better life.
Food contact materials or package is part of food safety. So it is very critical and important in the value chain. But it is always easy to be ignored because people focus food content more than food package material, especially migration or residual risk. Except the needs of safer solution from consumers or end users, the sustainable food package solution is also more and more popular.
The biggest concerns regarding food contact material/package: 1. Pay close attention to the safety of food contact material or package in whole value chain; 2. Migration testing and relative risk evaluation; 3. Safe and sustainable food package solution.
Q. What are some of the biggest opportunities gaining attention within the food contact field?
Safe is basil property for food, and food package is same as well. So the biggest opportunities is always from here, as the food package solution is safe enough, "0" migration, higher compatibility for more food stuff, reliable for various condition… but in long term, safe and sustainable food package solution will be the biggest opportunities, as biodegradable food package, recyclable food package and renewable source.
Future Focus:
Q. What industry topics are getting the most attention at this time? How are these factors influencing the future of food contact packaging/materials?
Currently, a lot of attention is on China FCM GB regulations. Since it started to be implemented 3 years ago, most of are still learning about it, it has had a big influence on the industry. Take example, the GB9685-2016 – additive positive list was renewed. Some additives are not allowed ,or some have the amount limitation. So food package manufacturers needs study positive list, and self checking own raw material or components against the positive list. But all food package is not single raw materials, there need tracing and coordinate with supplier or supplier's supplier. It increase complexity and need additional resource. Otherwise, the more important is that It will change the mindset of producing food package material or develop new food package solution.
Q. Which countries can we expect future changes from in terms of their food contact regulations?
In Asia Pacific region , Indonesia, Vietnam and Thailand are active in food contact regulation in recent years. Recently Indonesia and Thailand overhauls in food safety. Indonesia announced REGULATION OF THE DRUG AND FOOD CONTROL AGENCYNUMBER 20 OF 2019 ON FOOD PACKAGING-29 July 2019, it expand the regulation scope e.g both new and recycled material, enhanced total migration limitations of food package and so on.
Q. What opportunities are there for harmonization of food contact regulations in the Asia Pacific region?
Well, It is a good wishes for everyone, but the reality is that slow progress on ASEAN Harmonization. But there are some positive trend like the trend toward "voluntary" standards becoming mandatory in more and more countries. According to personal understanding, the harmonization should be divided four group as China, South-eastern Asian, Japan and Korea, Oceania. Because food contact regulation is basis on food , and food is basis on culture.
Conference Related:
Q. Your presentation at this year's Food Contact Asia will cover Case studies on compliance of labels for food contact packaging, Why is it important for others in your industry to hear this message? What are some of the key take-aways?
Label is very important food package material or part of food package. It is near everywhere in food package. It is not only the carrier of transfer information or branding, and also it is still the carrier of safe , functional and sustainable for food package or food. All stakerholders also pay more attention to the safe and reliable label material. Because there will be potential impacts in food safety, food packages safety, food tastes, food information transfer and branding if there are not right label solutions.
The key take-aways: 1. proposals for selecting right labels according to different food package and food application condition; 2. The importance of the label migration testing; 3. Safe and sustainable label solution.
Q. Which presentations (what session topic) are you most looking forward to hearing about at Food Contact Asia?
The next is most interested session:
Tom Carr, Senior Packaging Technologist, Fonterra
Sylvain Rannou, NQAC Expert, Packaging Safety & Compliance in AOA, Nestle Quality Assurance Centre
Alistair Irvine, Senior Manager, Food Contact Testing, Smithers